If you're looking for a print on demand dropshipping provider to start your online business with, it's important to understand the print on demand providers that are available in the market.
Not only will this help you find the right partner for your business, but it also protects your brand reputation.
There are several print on demand service providers that offer a wide range of products in their catalog, integrations with multiple apps, good customer support, and product quality.
Spreadshirt is just one among many such providers, which offers plenty of products for your customers to enjoy no matter what you put your icon on.
The platform helps you sell from your own store or you can reach the buying masses right from the Spreadshirt marketplace.
However, Spreadshirt isn't necessarily the best print on demand provider out there. There are several alternatives that offer even better products, printing services, pricing, and shipping options.
Here are the 10 best Spreadshirt alternatives in our book that you can consider for your print on demand business.
Best Spreadshirt Alternatives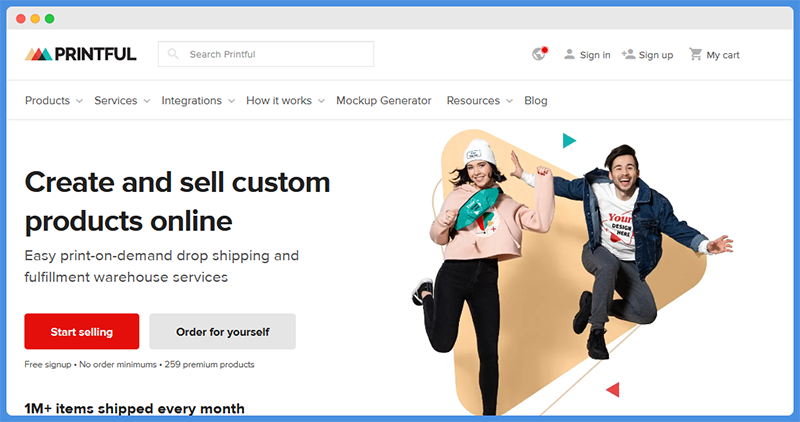 Printful is an on-demand company that offers printing and warehousing services to help you turn your ideas into products and brands.
You can use the service to create your brand online or gift loved ones or friends personalized items including t-shirts and other merchandise.
Each time you make a purchase, Printful receives the order automatically and fulfills and ships it directly to your customer. You don't need to keep any inventory because Printful does this on your behalf.
Like Spreadshirt, you can sign up with Printful for free to use its print on demand services. However, there are salient differences between the two platforms.
While Spreadshirt only offers design services, Printful offers warehousing services, 24-hour fulfillment, design services, product photography, video services, store setup services, and branding all under one roof.
Spreadshirt only offers sleeve printing and DTG or sublimation for production options. Printful on the other hand offers product branding for inside labels, outside labels, and sleeve printing options.
Plus, Printful offers packaging branding that includes white-label packaging, brand logo, pack-ins, and custom packing slips.
In terms of production options, Printful has four types: DTG, embroidery, sublimation, and cut & sew.
Printful's fulfillment services are spread across major markets like the US, Europe, Mexico, Japan, Australia, and Canada while Spreadshirt is centered around the USA and Europe.
In addition, Printful offers more features than Spreadshirt including a product mockup generator, embroidery mockup generator, text and clipart tool, and a product personalization tool.
If you want to reach Printful's customer support team, you have the live chat and email options while Spreadshirt offers email and phone.
As far as price is concerned, Printful and Spreadshirt are free to use.
Printful had a couple of pricing plans earlier but very recently, they made the service free for all, that too with additional features.
So Printful is free. You only need to pay for the products, and shipping. Check out the pricing page for the latest on product and shipping costs.
Spreadshirt applies a standard fee for each print area used but gives you designs and texts for free, and charges based on product type, country of sale, and sales channel.
Printful also charges based on the product, fulfillment location, and printing, though some prints and techniques attract extra costs.
Both platforms offer flat shipping rates, but Printful goes further to display live shipping rates and a custom return address.
Printful also integrates with multiple apps including Shopify, WooCommerce, Wix, Weebly, ShipStation, Big Cartel, Gumroad, and more, while Spreadshirt integrates with Shopify (SPOD app).
Our Pick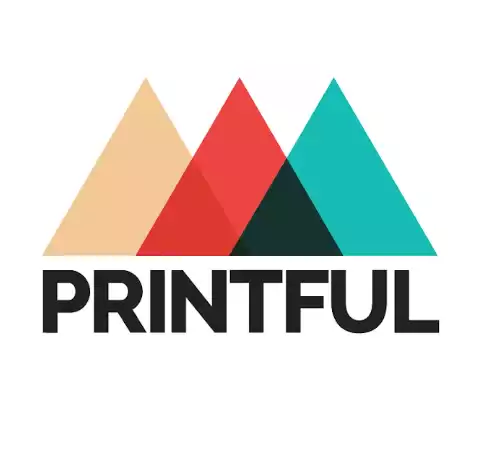 We earn a commission if you click this link and make a purchase.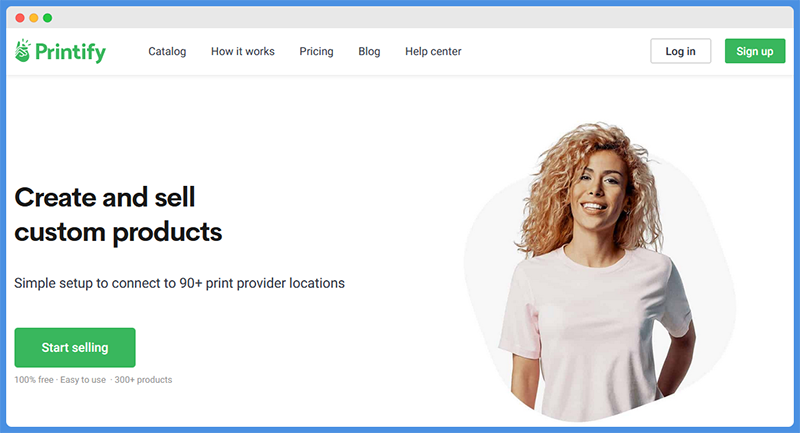 Printify is another good Spreadshirt alternative. The print on demand platform is transparent and simple to work with multiple print providers globally, so you can fulfill and deliver your items to your clients.
The app is not only reliable and simple, but the team behind Printify is always learning and improving to create new opportunities for their stakeholders.
Not only that, but Printify also makes the process of sourcing and creating print on demand items simple and automated at the best market prices.
You can sell products on your own site without having to go through other marketplaces, and let third-party manufacturers do the printing, shipping, and more.
This way, you need not struggle to build your brand or handle growing fulfillment requests.
Unlike Spreadshirt, which only offers DTG or sublimation for production, Printify offers DTG, embroidery, sublimation, and cut & sew.
Printify also fulfills in the USA, China, Europe, Australia, UK, and Canada, while Spreadshirt is based in Europe and the USA.
Among the major features Printify offers include integration with WooCommerce and Etsy, which Spreadshirt lacks, huge product catalog, automatic syncing with your store, and competitive pricing.
Printify also offers custom order imports, order routing, product selective publishing, product migration, and a mockup generator tool.
It also has a Chrome extension to help you import orders from Amazon, Squarespace, BigCommerce, and any eCommerce or print on demand platform.
While Spreadshirt offers support via email and phone, Printify offers it via live chat and email. In terms of product branding, Printify only offers neck labels, unlike Spreadshirt that offers sleeve printing.
Printify also offers flat shipping rates like Spreadshirt, but goes further to provide live shipping rates as well.
However, while Spreadshirt is free to use, Printify offers a free plan but also has a Premium plan for $24.99 per month and an Enterprise plan with custom pricing.

We earn a commission when you click this link and make a purchase.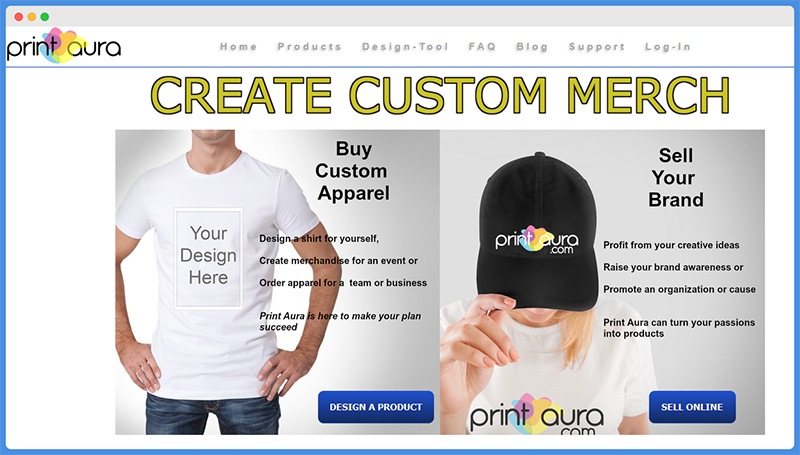 Print Aura is a print on demand company that prints and ships custom items for companies of different sizes.
If you want to focus on your custom work and not other logistics like printing, shipping, or management of inventory, Print Aura takes away the hassles of dealing with fulfillment.
The company prints and ships items ranging from over 100 products and you only pay for what you sell. There are no order minimums or membership fees to pay.
Once your orders are printed, the company ships them directly to your customer but they look as though you shipped them yourself.
Print Aura also offers multiple production options including DTG, embroidery, and sublimation, unlike Spreadshirt that only offers DTG or sublimation, and ships within the USA only.
Spreadshirt ships around the USA and Europe so it has more location options than Print Aura.
In terms of product and package branding, Spreadshirt only offers sleeve printing, but Print Aura goes further to provide inside and outside labels, hangtags, white-label packaging, custom packaging, individual bagging, and pack-ins.
Print Aura also offers a product and embroidery mockup generator and a text tool, but Spreadshirt offers both generator tools, text tool, clipart tool, and product personalization tool.
Both services offer flat shipping rates, but Print Aura integrates with more apps than Spreadshirt, including Shopify, Etsy, WooCommerce, StoreEnvy, and Opencart.
Print Aura is free to use, like Spreadshirt, but its pricing is based on the cost of the printed product, which you can calculate or estimate using its pricing wizard.
Check Out: Printful Vs Print Aura
4. CustomCat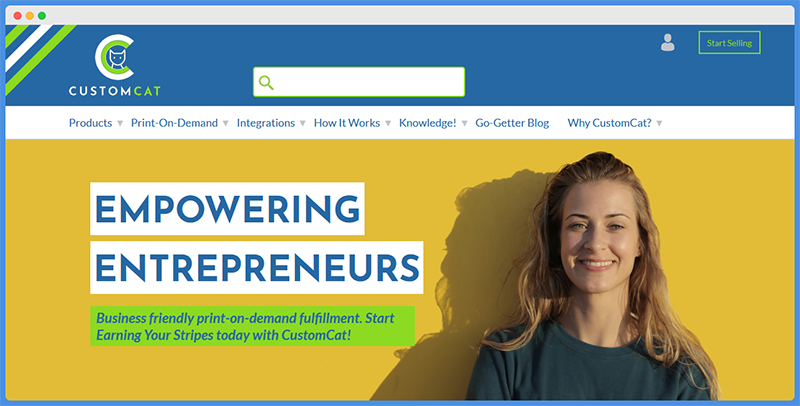 CustomCat is a business-friendly print on demand fulfillment service provider that delivers fast, reliable production fulfillment, strong product selection and quality, and high-profit margins.
The company embraces your business so you can grow and scale your stores. It uses production methods such as DTG, embroidery, and sublimation, while Spreadshirt offers only DTG and sublimation.
However, CustomCat is only centered within the USA while Spreadshirt is spread across the USA and Europe, meaning you have more fulfillment locations.
CustomCat also offers white label product packaging, while Spreadshirt offers sleeve printing.
Both platforms also provide product mockup and embroidery mockup generator tools, but Spreadshirt provides a text and clipart tool plus a product personalization tool.
In terms of pricing and shipping, both services are free to use and offer flat shipping rates. However, CustomCat's free service is part of its pricing packages, called CustomCat Lite, but it offers a free 14-day trial for its premium plan.
You'll get more integrations with CustomCat, which works with Etsy, BigCommerce, WooCommerce, Shopify, and an API for clients or you can upload a CSV, while Spreadshirt offers integration with Shopify.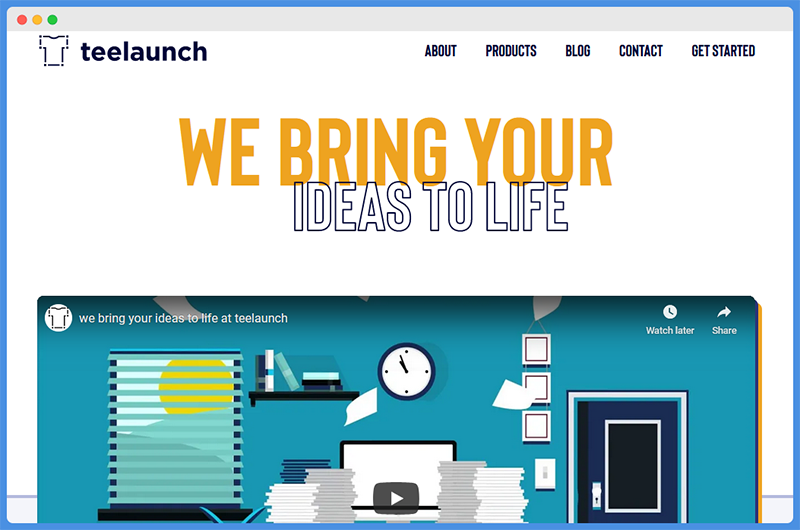 Teelaunch is a print on demand company that has been in operation since 2015 and that helps thousands of stores to start and run their business.
The platform offers the actual products you can create and sell on your online store, and you don't need to worry about printing, fulfillment, and shipping as Teelaunch handles all that.
The company has production facilities in multiple countries across the globe to allow you to sell from anywhere and it's streamlined for quick product creation.
You can sell your products and make plenty of profits because Teelaunch ensures that its product prices are low, and flat shipping rates means you don't have to struggle with price fluctuations.
Unlike Spreadshirt, whose production options are DTG and sublimation, Teelaunch offers DTG, sublimation, and cut & sew, and your items can ship to the USA, UK, Australia, and Canada, which are more locations compared to Spreadshirt's USA and Europe locations.
Teelaunch also offers packaging branding in form of brand logos and white-label packaging, while Spreadshirt only offers sleeve printing.
However, in terms of features, Spreadshirt offers more than Teelaunch, which only has a product mockup generator and product personalization tool.
Both services are free to use and offer flat shipping rates. Teelaunch offers more integrations with Etsy, eBay, and Amazon, while Spreadshirt offers integration with Shopify.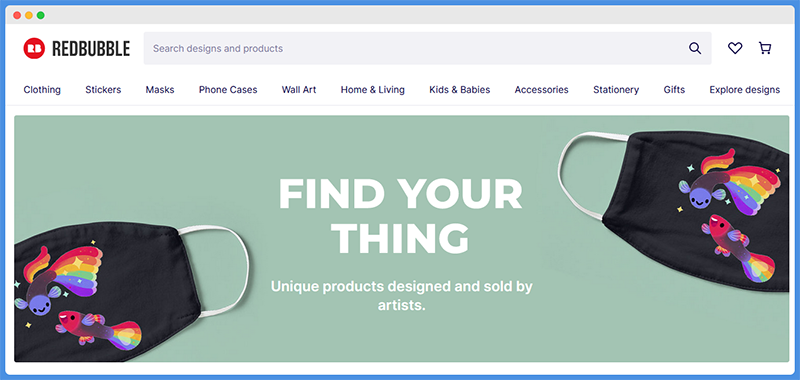 Redbubble is a company based in Australia that's been in operation since 2006, giving independent artists a way of selling their custom creations.
The platform allows you to sell anything on super well-made products that are original, personal, and high quality.
The company partners with big brands including Adventure Time and Rick and Morty so you can design and sell fan art.
Once you get a customer, the print on demand company sends your order to its third-party printers so they can get started with production right away.
Both Spreadshirt and Redbubble offer DTG and sublimation production options. However, Redbubble's DTG is applied on basic apparel items, which involves applying a pre-treatment before loading the item on the printer so that the prints sink into the textile fibers for longer wear.
Redbubble also offers sublimation printing using heat that turns inks into gas and combines them with polyester textiles.
Some of the features you'll find in Redbubble that are lacking in Spreadshirt include multiple fulfillment centers in the USA, UK, Canada, Australia, Germany, and Netherlands, while Spreadshirt is in the USA and Europe only.
Plus, Spreadshirt offers flat shipping rates, while Redbubble shipping costs are based on the location and shipping method.
Redbubble also offers responsive support via email, live chat, and social media, while Spreadshirt offers only email and phone. Redbubble doesn't integrate with other platforms, while Spreadshirt integrates with Shopify.
In terms of pricing, both platforms are free to use, but Redbubble lets you set profit margins based on each product.
Just add the margin to the base price to get the retail price and keep your profits. The base price covers the company's service fee and manufacturing costs.
Interesting Comparison: Redbubble Vs Printify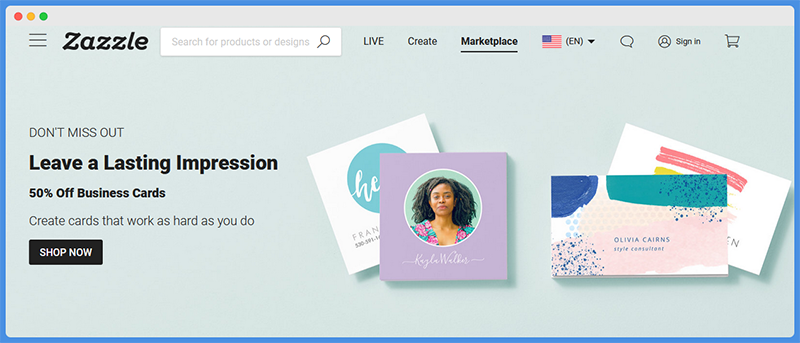 Zazzle is an online marketplace and print on demand company that offers millions of high-quality made to order and customizable items.
The community comprises designers, makers, and associates who offer content, manufacture goods, and share links while making money via referrals respectively.
You can get high-quality items including mugs, clothing, baby and kids, office, art, weddings, and other gift products. Since 2005, Zazzle has been providing more than 300 million unique items through its sellers and designers.
The company's proprietary technology allows the seller, buyer, and entrepreneur running an online store to create unique items that can be sold globally.
Not only that, but the company handles production, shipping, and customer service.
Unlike Spreadshirt, which ships to the USA and Europe, Zazzle ships internationally so you have a larger audience, and more shipping options.
Zazzle also offers more ways to make money from the platform including being a designer and selling your artwork, being an associate promoting it through affiliate links, and making physical products to sell through the Maker platform.
Support is available via email, compared to Spreadshirt that offers email and phone options.
Both platforms don't charge designers anything to join or use the platform, however, once a sale is made, they both take a percentage of the sale and you keep the profits.
Zazzle makes selling so easy that you don't have to deal with physical products. Just focus on creating your designs and once sold, they'll produce and ship to your customers.
They also handle inventory, unlike Spreadshirt, which doesn't offer warehousing services.
Explore: Zazzle Vs Teespring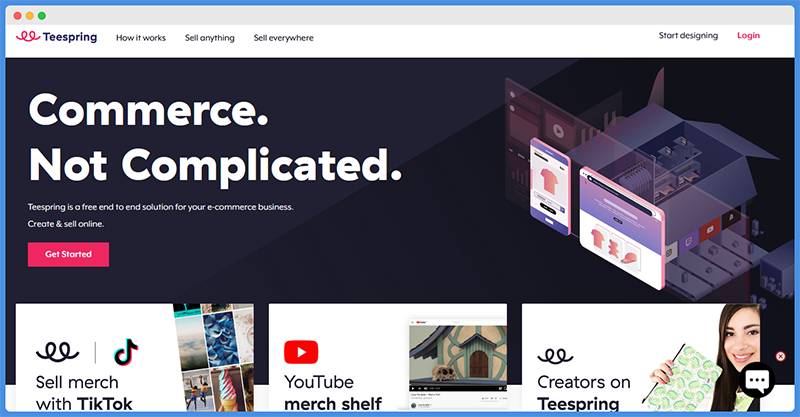 Teespring is another print on demand platform that you can use in place of Spreadshirt. The platform allows you to create your custom items and sell them on its platform by uploading your designs or you can get customized products for yourself or your brand.
The easy to use platform attracts creatives and artists to sell designs on multiple products and make money after setting up campaigns and pricing for their products.
Once you sell an item, you can keep the profits, which are calculated along with the base cost to get the selling price.
Unlike Spreadshirt, which offers sublimation and DTG printing options, Teespring offers DTG and screen printing for the highest quality products.
Plus, Teespring's system automatically chooses the printing production option based on the product type, number of colors, quantity, and other order details.
Spreadshirt also offers a flat shipping rate, but Teespring has different shipping fees depending on the location your orders are being shipped to.
Plus, Teespring charges an extra cost for more items and calculates each listing's shipping cost separately.
Teespring pricing also depends on whether your design is single or double-sided, and the previous number of items you've sold, not on the colors or what you sell from a particular listing.
Consequently, you may have a lower base cost based on the number of items sold from one campaign.
In this way, Teespring motivates you to aim higher and earn more while reducing base costs. Like Spreadshirt, you don't pay anything to use Teespring, but you'll incur service charges only on the base cost of the items you sell.
Spreadshirt is limited in location to Europe and the USA, but Teespring offers global shipping to over 180 countries.
Plus, you can also create a custom store for your brand and promote your custom designs to get more sales. You can also select how long your campaign will run for different items and set sales goals.
Teespring also offers a unique feature that's not found in Spreadshirt, which allows you to sell merch to your fans and raise funds for charity.
Plus, Teespring integrates with YouTube Merch Shelf, Twitch merch store, Streamlabs, and Google Shopping while Spreadshirt only offers Shopify POD app integration.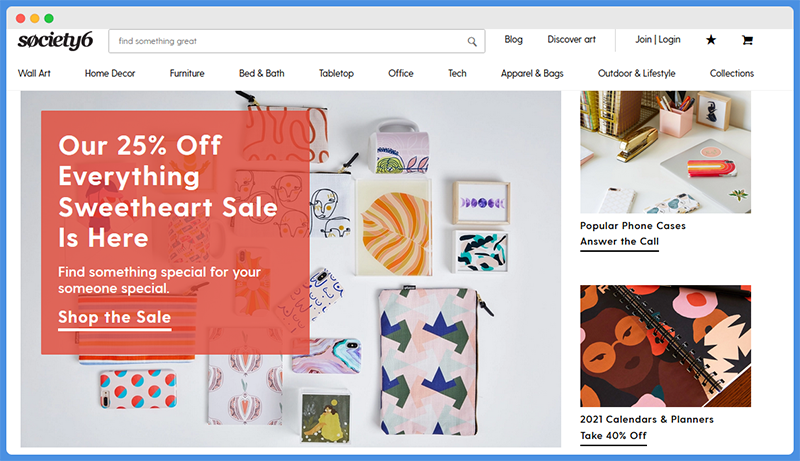 Society6 is another print on demand platform that allows you to upload and sell your original artwork on over 30 high-quality products.
The platform offers an active community and marketplace with high-quality premium items and prints, plus great talent.
In terms of production, Society6 offers DTG for all t-shirts, which lays down durable, soft, and full-color spectrum prints, but Spreadshirt offers DTG and sublimation so you have more options.
Not only that, but you can't markup your prices on Society6 as you would with Spreadshirt, meaning if you sell items, you get 10 percent of the selling price, except for framed, canvas, or art prints that you can markup more than 10 percent.
The company's pricing covers service fees including manufacturing, fulfillment, and the profits you get for each sale made.
Both platforms are free to use and there aren't any upfront costs to become a seller. You can also curate with Society6 and get more commissions for recommending other artists and helping them sell their designs.
Society6 ships internationally and to the USA and Australia, unlike Spreadshirt, which is limited to the USA and Europe.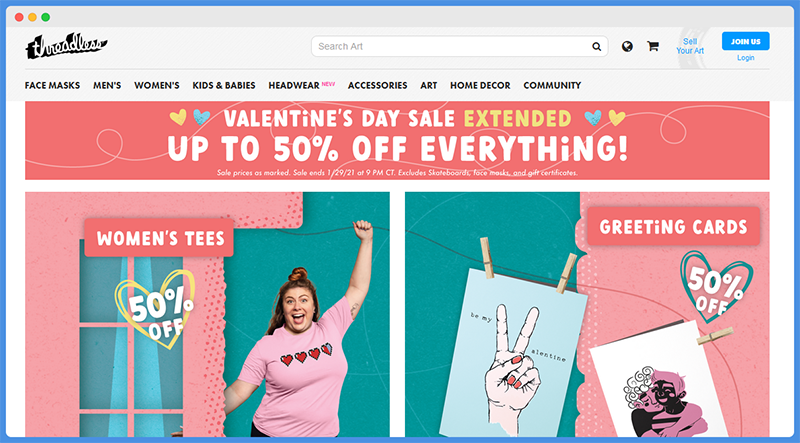 Like Spreadshirt, Threadless is a print on demand company that allows you to sell t-shirts on its platform and keep your creativity alive through online design competitions.
Both platforms are free to use and don't have any hidden fees. The company, which is located in the USA, allows you to buy from anywhere in the world and delivers using different mailing services.
As an artist, you can set up a customizable store on Threadless and upload your designs or place them on more than 100 different items. Once you sell an item, Threadless manages production, packing, shipment, payments, and customer support.
Your profit margins are based on the base cost and selling price, so you can add a margin and let Threadless set the price for you.
Both Spreadshirt and Threadless print using DTG and dye-sublimation methods, but Threadless adds giclee printing for wall art products. In terms of integration, Threadless offers an API that you can network directly with your preferred vendor.
Threadless ships to almost any location in the world, but Spreadshirt is mostly centered around locations in the USA and Europe.
Wrapping Up
Print on demand companies allow you the freedom to create your own custom product store, monetize your audience, and cater to a particular target market or niche.
However, picking the best company to work with and birth your online store vision can require lots of research.
If you're looking to ditch Spreadshirt for a better alternative, these best Spreadshirt alternatives offer distinct product catalogs, production and shipping considerations, and unique features you can factor into your decision.

Author: Sam Zaman
Sam loves to write on technology & related stuff. Ecommerce, mobile and internet marketing equally drive her interest. Likes gardening and experimenting with new recipes. An avid reader and absolutely mad @bout donuts :)