eCommerce has made digital shopping convenient for consumers all across the globe already.
Consumers are given access to – an array of products, competitive prices, on-the-go screen shopping with easy shipping options all without having to step away from their computers or mobile phones.
With QR Codes being deployed for this emerging business field, digital brands can elevate their game to a whole new level.
The eCommerce companies have multiple business models –
Inventory Shopping
Social Networks
Aggregator Networks
e-Marketplace
Transaction Broker
Click and Collect Service
Most of these business models already have QR Codes in place. QR Codes' biggest propellor is the greater adoption of the internet and smartphones.
Users can take advantage of QR Codes in each of these business verticals to gain more transparency about the brand, educate and compare with other competitors, learn about the manufacturing process, read reviews, and demand for higher engagement.
E-tailers depend on cloud technology for its flexibility, availability, scalability, and efficiency. QR Codes, when merged with the already enabled technology of eCommerce, will help e-tailers have easier access to their audience reach and target them according to the ever-changing trends of the market.
6 QR Code Applications for Ecommerce
The eCommerce sector is characterized by waves like digital payments, social commerce adoption, and mobile-first consumer behavior.
These trends are further classified into four main spectrums – adoption of omnichannel technology, growth of mobile payments, expansion of the digital ecosystem, and strategic partnerships between search engines, social media platforms, and international players that are rising in the market successively.
Adoption of static or dynamic QR Codes in this vast sector of business can boost e-brands' businesses for not just online growth but also brand building and an improved customer user experience.
So, keeping these in mind, what are the ways QR Codes can be best used in eCommerce?
1. Product Packaging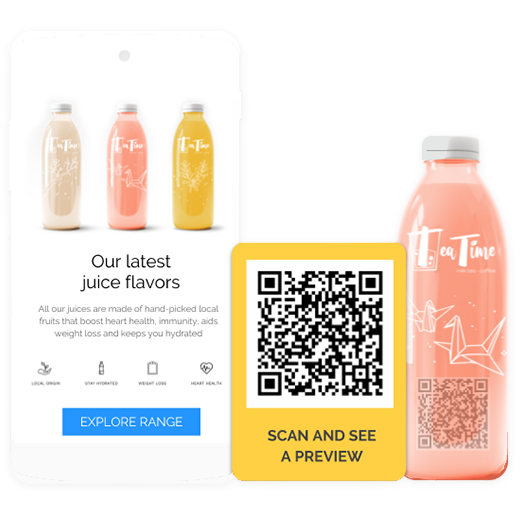 QR Codes can be printed on different types of product packages – primary, secondary, and tertiary packaging.
E-tailers are now increasingly implementing QR Codes on their packages as it not only reveals crucial data about the manufacturer but also engages customers via discount coupons, deals, future product plannings, line-up of collaborations, et al.
Upon scanning these QR Codes, consumers can rate and review the product too.
Printing QR Codes on packaging is a sure-shot way of driving traffic to brands' social media pages.
The QR Codes can lead to different landing pages based on the consumer's search traffic, and the brand could then leverage this to display products based on the consumer's choices.
This can be very useful if the brand has multiple product offerings.
The US Postal Service launched a campaign, Mobile Shopping Promotion in 2016 that encouraged users to use their smartphones to mail making it easy for consumers to shop.
As part of the campaign, mailers availed a discount on postage if they included a QR Code on their standard mail letters and flats (newsletters, magazines, and large envelopes).
The QR Code should be made scannable and must lead the user to an online store or a social media page that encouraged users to make a purchase.
2. Brand Transparency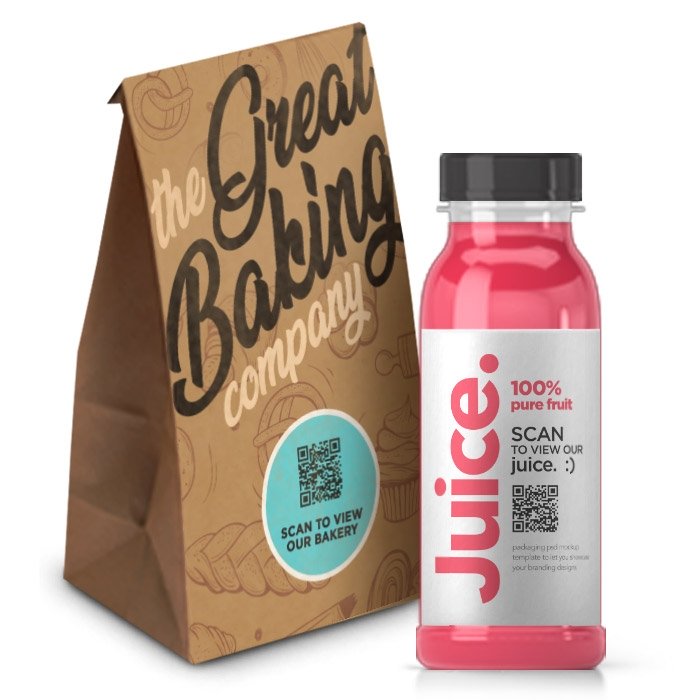 According to a RetailDive, nearly 60% of consumers search for product information on their phones whilst shopping.
Placing QR Codes on landing pages, next to the product and even on tags can empower customers with more information about the product they are purchasing and encounter seamless transactions to enhance their online shopping experience, thus contributing to an omnichannel retail strategy,
Most consumers' biggest woe is that the products on the internet are unreliable, not secure or don't have enough reviews. Brands fail to target these pain points before reaching out to their audiences.
QR Codes can help gain a customer's trust by giving them access to learn more about the brand and product they are investing in, ease of access to track the shipped products and learn more about the authenticity of the brand.
Also Read: Elements Of Mobile Friendly Ecommerce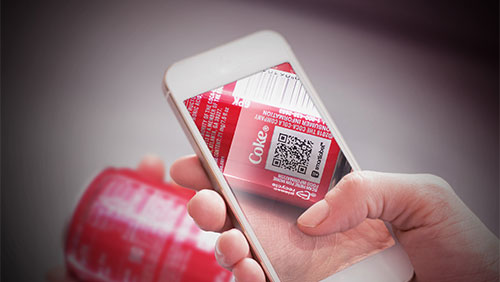 Coca-Cola launched its SmartLabel campaign in 2016 in an attempt to divulge product information for any food, beverage, and consumer goods any user bought.
The SmartLabel contained a QR Code that was placed on the Coke product, and upon scanning, the user could learn about all the ingredients that the product contained.
This boosted the company's incoming traffic by 99%.
3. BOPIS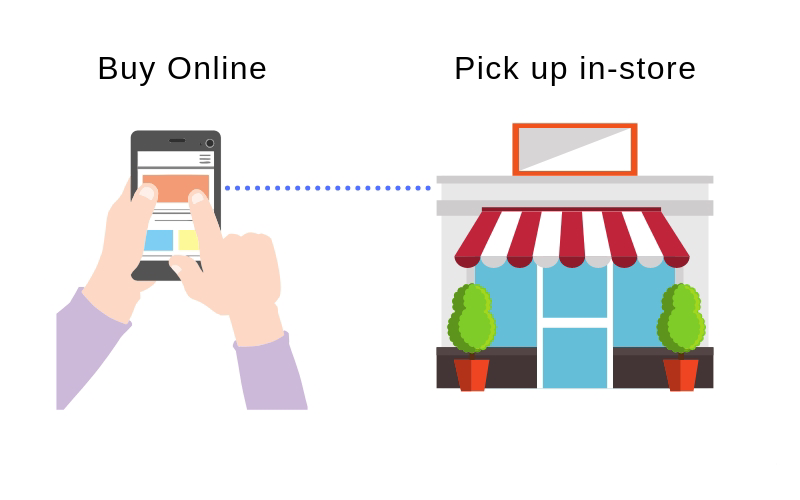 BOPIS (Buy Online, Pick Up In-Store) is meant for shoppers that are too busy to browse items in-store and prefer to buy them online instead.
BOPIS lets retailers merge online and in-store experience to engage with shoppers whilst offering a rather convenient route to shop.
By implementing QR Codes for retailers offering BOPIS, consumers are presented with a rather seamless, and inclusive shopping experience.
Retailers create a convenient shopping platform by enabling customers to complete purchases online or via a mobile app, and selecting the time and store location to pick up the purchased products.
With QR Codes present in the apps, consumers can not only choose when and where to pick the products but also locate the exact spot the product is placed at the stores with real-time local inventory visibility.
Enabling QR Codes for BOPIS can alert the store associates to easily locate, pick and keep the package ready to be picked up by the customer at the customer's local chosen shop.
The store can also send out notifications via email or SMS, and the customer can simply present the QR Code at the store for easy guidance when the product is ready to be dispatched.
4. Deliver Augmented Reality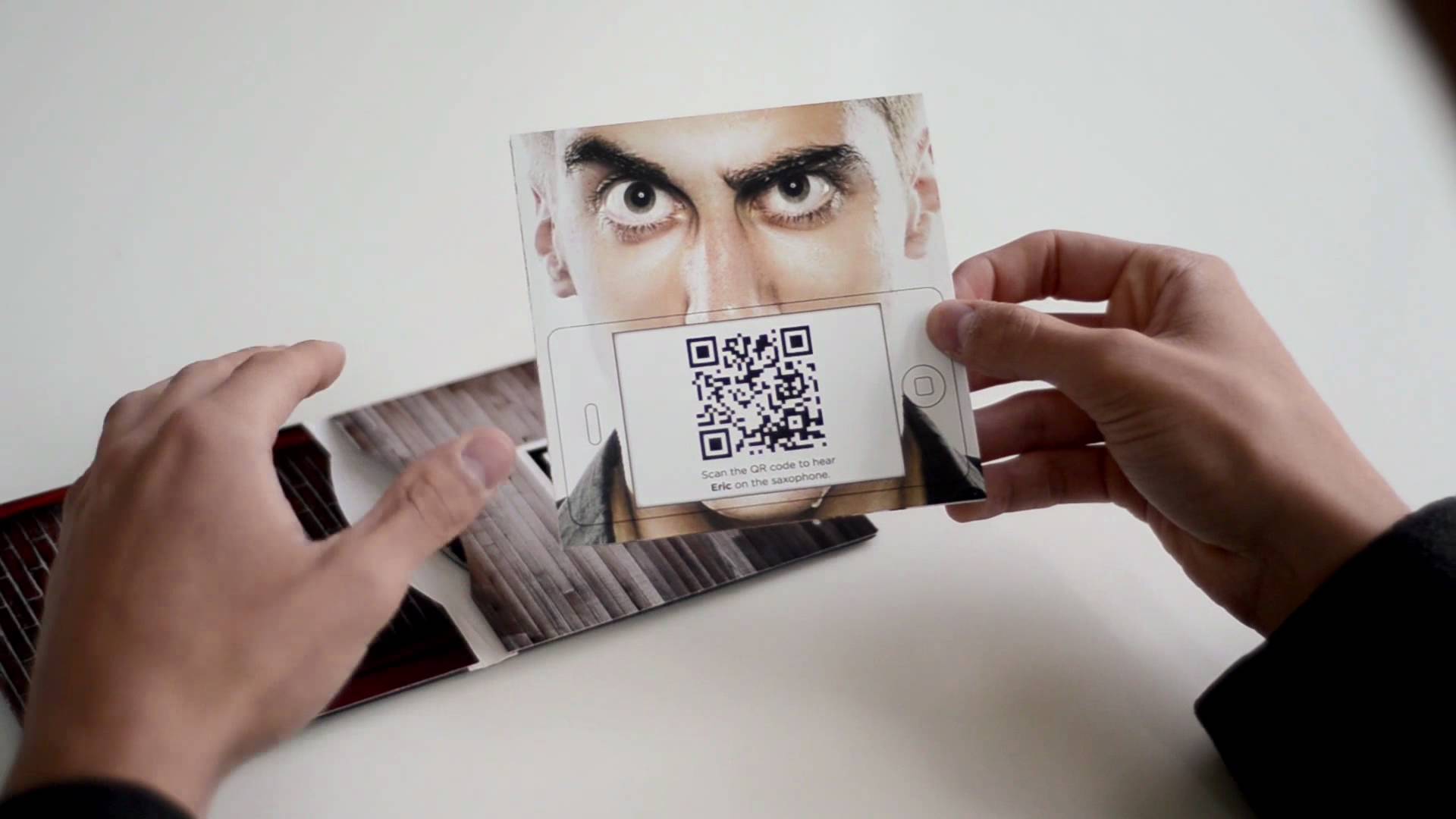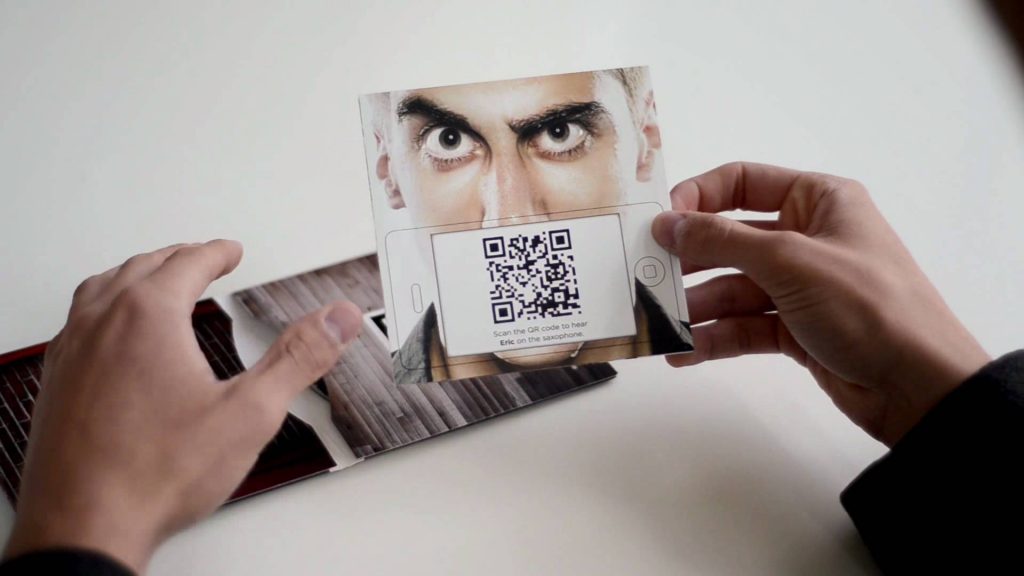 The eCommerce sector has really amplified the online shopping experience for shoppers.
A major chunk of shoppers is skeptical of buying products online as they aren't sure of the fit or how it would look on them.
Augmented reality has further enhanced the user experience by solving this exact pain point.
Retailers have exploited the technology of AR into QR Codes to deliver an enhanced consumer experience.
Markers or AR Codes, when scanned, allow consumers to try-and-experiment the products without having to be present in the store physically.
The user has to simply scan the QR Code to experience an augmented reality shopping experience.
AR can help shoppers visualize what their favourite IKEA table might look in their living room or how a Tesla would look like in their driveway and even see a 3D model of a Lego set.
Several brands like Puma, Sephora, and IKEA have AR Codes on their eCommerce platforms which intrigues customers and boosts experiential retail.
Also Read: Ecommerce Traffic Woes? Resort To These Techniques
5. Experiential Shopping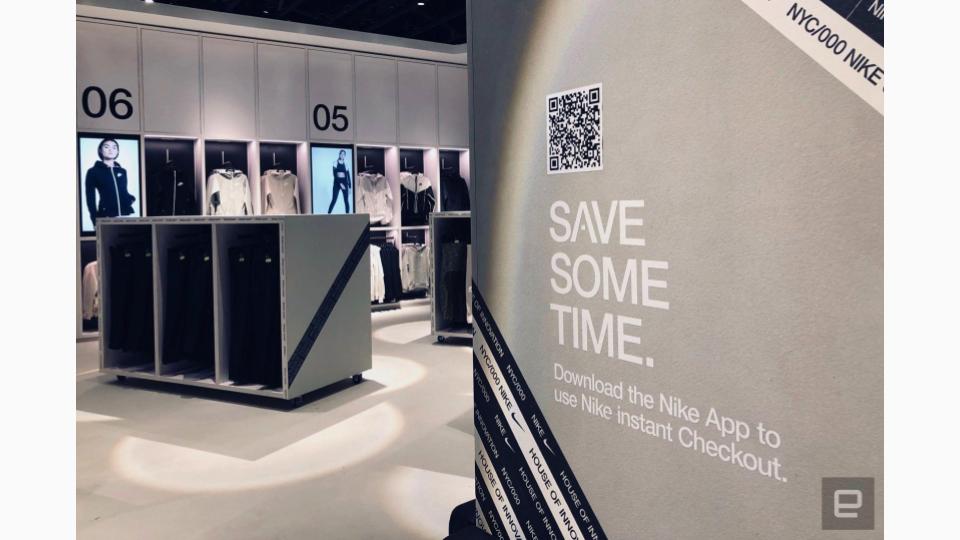 According to a report by Accenture, Gen X outspends compared to all other generations in terms of housing, clothing, eating out, and entertainment.
The same Gen X shoppers also rather invest their money in a satisfying experiential product as opposed to something materialistic.
In the US, 35% of GenX'ers have college degrees, compared to only 19% of millennials and the device usage is rather steep than the generation of millennials – 21 hours on smartphones, 9 hours on computers, and 4 hours on tablets.
This insinuates that they tend to hold more power in eCommerce shopping organizations.
QR codes when integrated with eCommerce web pages and marketing campaigns, provide instant gratification to the same GenX'ers since the product page and campaigns can be edited at regular intervals by targeting a specific type of audience to captivate their attention further by bringing a true omnichannel presence.
Some of the brands that have nailed experiential shopping are Spotify, Google, and Amazon.
6. Micropayments


Fraud threats and deception via online payment methods are increasingly rising by the day.
This is one of the substantial issues that e-tailers are trying to solve progressively.
Given the amount of embezzlement cases, it is quite common for shoppers to worry about their bank account details to be exposed on the internet.
One such method to solve this problem is by implementing QR Codes for online payments, or in other words, micropayment.
Micropayment or mobile wallet payment is when an app contains digital money in the wallets of customers.
The money can be added in the wallet either via internet banking or debit/credit card or in some cases, even by physically depositing cash in designated micropayment stores.
Micropayments can be used for multiple purposes – online shopping, bill payments, tipping an online delivery executive, ticket booking, and so on.
Some of the platforms that offer micropayments are AliPay, Google Pay, Venmo, Samsung Pay, and Gyft to name a few.
Let's now look at some of the eCommerce companies that have leveraged QR Codes in their business models.
Also Read: Best Tools For Ecommerce Business
1. Amazon
Amazon, the eCommerce conglomerate giant has successfully incorporated QR Codes in their business models to bridge the gap between online and physical shopping.
The eCommerce giant has leveraged QR Codes in more ways than one. The incredible technology of QR Codes when enabled with online shopping eases the experience wholly and also amplifies the consumer experience.
Some of the best ways Amazon has leveraged QR Codes are –
a. Amazon Go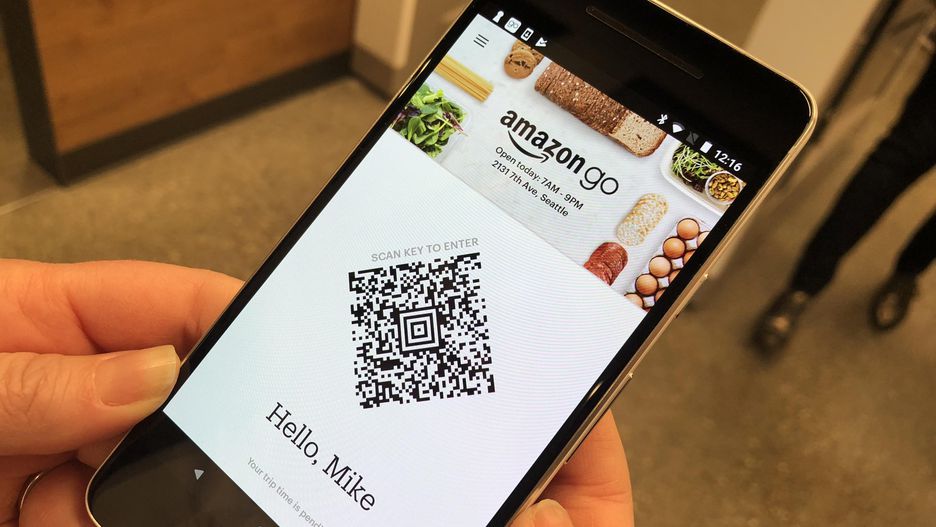 Amazon has turned the tables when it comes to purchasing goods from local grocery stores.
A new endeavor of Amazon is Amazon Go, and with it, grocery shopping will have a whole new experience.
Retailers can use the technology of QR Codes by allowing their customers to purchase items in-store without having to check-out by standing in queue lines.
Amazon Go's agenda is quite clear: Just Walk Out.
In simple words, customers can purchase any item of their choice by downloading the Amazon app, and only upon creating an account will the consumer be able to enter the store.
After entering the Amazon Go store, the consumer has to simply fire up the app and hold their mobile phone to an electronic turnstile.
The system then scans the unique QR Code and boosts up the virtual cart. The consumer can then add item(s) of their choice and will be sent a receipt to their Amazon accounts after leaving the retail store.
Shopping won't be a hindrance anymore because of the long waiting lines.
b. Amazon Smile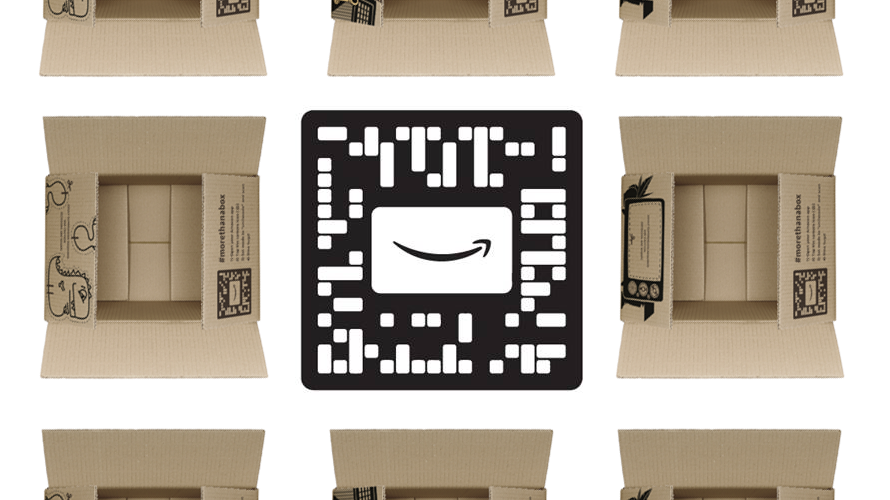 Amazon rolled out its own QR Code in 2018 called the Amazon SmileCodes.
SmileCodes are a customized version of QR Codes that work similar to SnapCodes and Instagram's NameTags.
Amazon's SmileCodes contain a smile in the middle of the code, and can only be scanned using the Amazon exclusive app.
SmileCodes can be used to retrieve detailed information about a certain product the user has received.
Upon scanning the QR Code, the user is redirected to a page that shows them the detailed information about the product.
Amazon's delivery packages now come with SmileCodes.
The code contains a CTA, and upon scanning them, customers can avail of special offers and discounts via the Amazon app.
Amazon offers a self-delivery/return service for the uninitiated called Amazon Locker.
It helps shoppers choose a locker location based on their convenience.
The users can then retrieve/return their packages at the location using SmileCodes to get their unique serial code.
2. Levi's
Levi's Strauss & Co is one of the leading jeans manufacturers in the world.
Levi's has always strived to be original and have an extra oomph factor in their products by catering to the youth's needs.
To resonate with the younger generation, the jean giant merged technology to prove that it is still the denim leader in the world.
Levi's incorporated QR Codes in their products and marketing campaigns to boost their sales and improve their total user experience.
a. Levi's Scan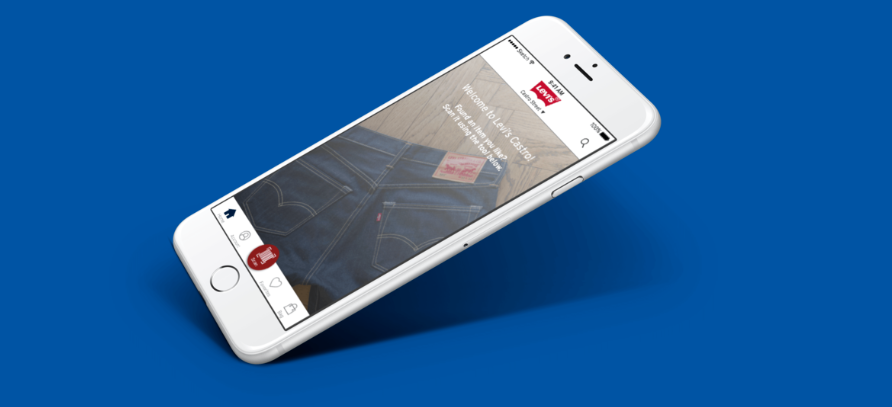 The company decided to improve its customer satisfaction and boosting its sales revenue by solving and identifying its current in-store experience.
With Levi's Scan, users must download the Levi's app, and the carousel explains the users how to use the app.
The consumer can then continue their shopping by choosing one of the three options – scan, search or favorites.
If the user chooses scan, they can then scan their product using the barcode present at the back of the jean and add the product to the bag.
If the user chooses search or favorites, the users are presented with a map view of the store with the choice of their location and the item is highlighted.
The user is then redirected to the checkout page to pay the bill either via Apple Pay or PayPal or debit/credit card.
If the user wants a carry bag, then they must scan a QR Code to scan the bag dispenser.
This enter-and-checkout option has really simplified the unnecessary amount of time spent at stores.
Also Read: Magento vs Shopify: Best Ecommerce Platform Review
b. Levi's Pride Capsule Collection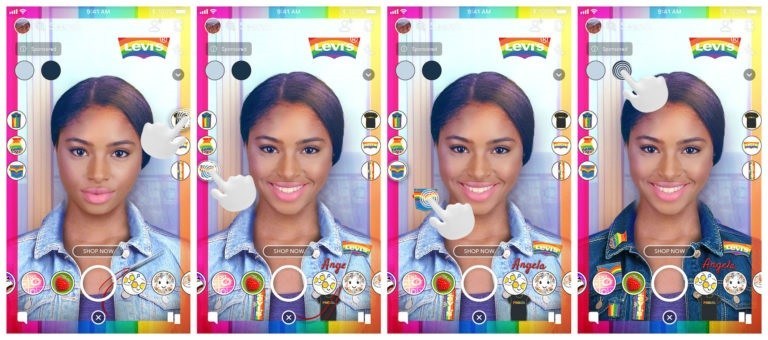 SnapChat and Levi's collaborated for a capsule collection in honor of Pride Month in June 2019. This capsule collection cannot be purchased by simply walking into stores, but rather, shoppers must use a SnapChat filter to try on and buy it.
SnapChat users must unlock a QR Code at select Levi's stores or receive a SnapCode from friends to unlock the special Pride Lens feature.
Once the feature is enabled, SnapChat's AR technology empowers users to virtually try on a Levi's trucker jacket.
Once the user has finalized their jacket of choice, they can order via the SnapChat app and can post a picture in their custom avatar.
According to Levi's, this collaboration commemorates "the first multi-product commerce experience on SnapChat."
3. Shopify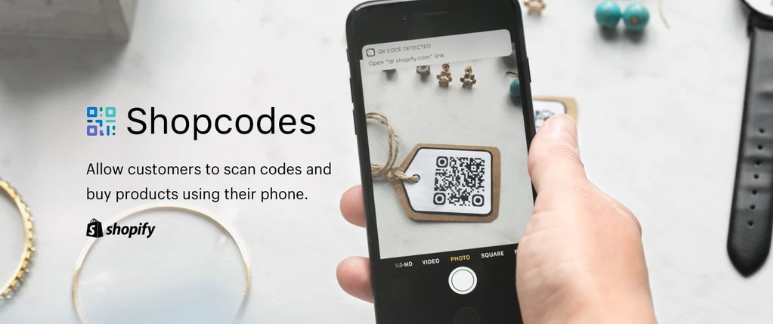 Shopify is one of the leading eCommerce website builders in the world that anchors more than 377,000 active online stores and generates more than $29 billion in sales.
Shopify has over 4200 apps in its app store, both free and paid, fulfilling all vital functions of an ecommerce store. 
Shopify incorporated QR Codes called Shopcodes to help customers shop any product they want to simplify their shopping experience.
Shopcodes are QR Codes that the shoppers can scan to direct them to any product on the Shopify store.
Users can generate their own Shopcodes using the dedicated Shopcodes App that can be downloaded for free in the app store (iOS and Android).
Shopcodes are unique and traceable, and thus traffic and sales can be traced from the Shopify analytics dashboard.
Snapcodes can be used for many purposes – direct checkout, discounts and coupons, learn more about the products by incorporating the codes on the packaging, encourage existing users to repeat purchases by availing accelerated checkout options, and so on.
Shopcodes is free for all merchants, and this has successfully eased the bridge between online and offline commerce using QR Codes.
QR Codes For eCommerce: Payment Solutions
Online merchant systems are prone to attacks on a regular basis.
The eCommerce sector has forever relied on the card-not-present (CNP) payment method.
Online consumers are now adept at entering their bank and/or card details into their checkout forms and purchase items.
Unauthorized merchants' systems store all the entered information criminals need to deceive the consumers.
E-tailers that use the CNP method expose themselves to internet hacking, but even if they are not hacked, business owners end up paying a price as the processing fee for such high-risk transactions are usually high.
QR Codes are now being deployed by online merchants to both speed up the payment experience and make it marginally safer.
Some of the best examples of e-tailers that have deployed QR Codes are –
Also Read: Strategic Ecommerce List
1. WeChat Pay
WeChat Pay is a subsidiary of WeChat, one of China's leading social messaging apps.
WeChat Pay is a payment solution that is integrated inside the social messaging app Tencent.
According to Wirecard, around 800 million users pay using WeChat Pay per month and the number is growing steadily.
It is present in the "WeChat Wallet" section of the application.
Consumers can perform a variety of transactions using WeChat Pay – transfer money to friends and family (as "red envelopes" during Chinese festivals), perform transactions on eCommerce sites, top-up mobile payments, bill payments, order and pay for cabs, purchase movie tickets or tickets for train and/or flights and so on.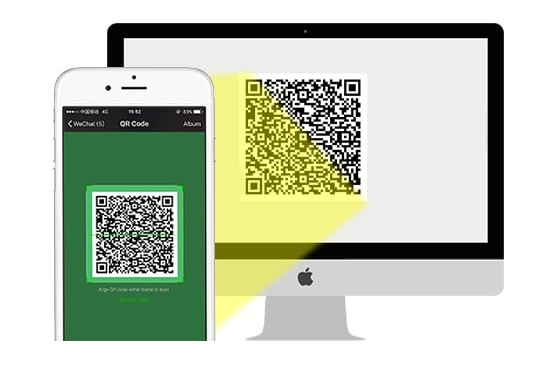 QR Codes were incorporated as a mode of payment when customers shop using desktop websites.
The QR Codes are automatically created by the WeChat Pay system.
The consumers are simply to scan the QR Code using WeChat or AliPay app to complete the payment.
WeChat Pay has leveraged QR Codes for another method of payment system – QuickPay.
The WeChat Pay system can be connected with any POS system.
This is a much faster payment solution as opposed to cash or cards.
Users need not feed their 6-digit pin code to approve the payment.
QuickPay is one of the most commonly accepted forms of payment in physical retail stores.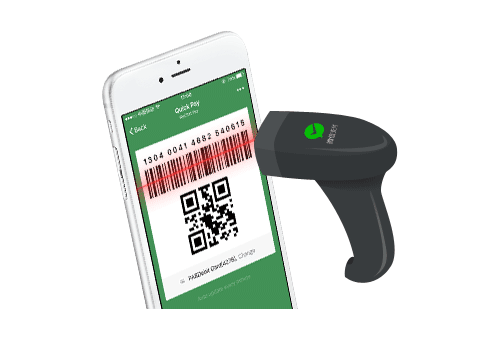 WeChat Pay essentially has a wallet that can be topped up by either internet banking or via debit/credit cards.
The money is then deducted from the wallet any time a transaction is made.
2. Walmart Pay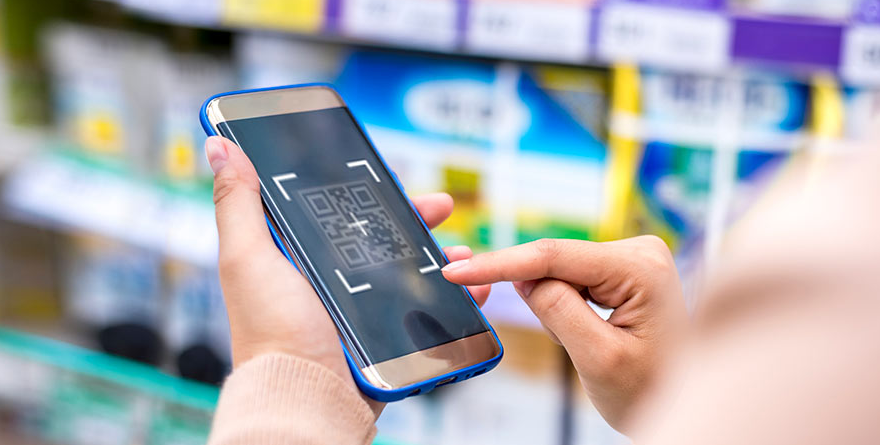 American retail giant Walmart was one of the first such retailers to unveil is own payment method – Walmart Pay in December 2015.
The wallet is loaded by downloading the Walmart app via the app store (iOS and Android), choose the mode of payment method to fill the wallet – either a debit/credit card or a gift card.
The user is then asked to set up a four-digit pass code or set up their touch ID as a password.
The working model of Walmart Pay is quite easy.
The users are supposed to scan items at any Walmart store checkout lane, fire up the Walmart app on the mobile phone and tap on Walmart Pay option, and finally, scan the QR Code that appears on the PIN pad to complete the payment.
According to a report released by Walmart, payments made via the Walmart Pay app jumped 45% following the launch, with 88% of the transactions coming from existing users.
The Walmart Pay app nests within the Walmart app making it easier for customers to access the app.
The retail giant leverages geofences to "know" when a customer is in-store and the involuntarily switches to the in-store mode, which enables mobile payment.
Also Read: Bigcommerce Review – Best Ecommerce Platform
3. PayPal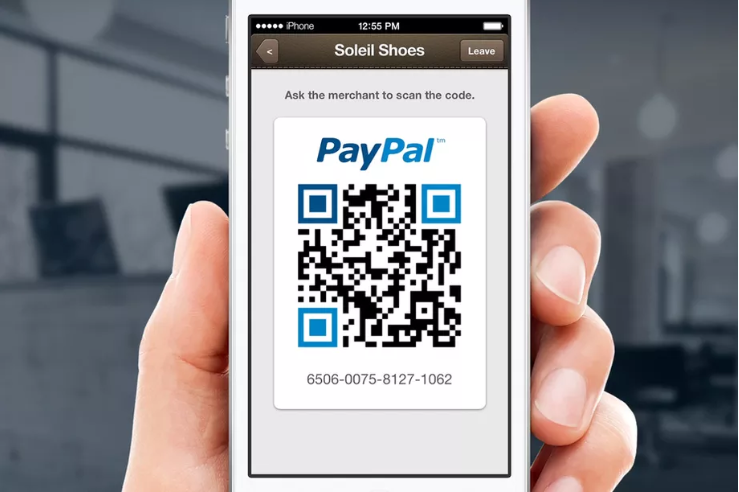 PayPal used to be an exclusive payment method for online auctions on eBay.
PayPal has now become a broadly accepted method of payment, both online and offline.
PayPal is an online financial service that lets users to complete online payment transactions using a secure online wallet.
PayPal works in a simple way – link your bank account, credit or debit card and top up the wallet using any of the aforementioned methods.
In addition to this, users can also receive money via PayPal.
The money received through PayPal is added to the wallet and this can be used to pay for items or transactions made online.
Alternatively, the money can be transferred to a bank account as well using the PayPal wallet.
A number of companies accept PayPal – Apple, Asos, Dominos, British Airways, Groupons, Levi's, Pizza Hut, Royal Mail, amongst others, to name a few.
The users are to scan the QR Code under the PayPal symbol and check out by leveraging the PayPal wallet present in the user's account.
PayPal guarantees a level of security that no other companies offer.
Since users don't have to enter card details or CVV number each time a purchase is made, the online merchants' database does not store the details, providing an added layer of security.
In addition to this, PayPal offers buyer protection safeguards that will ensure a refund if an item purchased online doesn't match up to the seller's description.
What Are The challenges Faced By e-brands In Incorporating QR Codes?
One of the biggest flaws of QR Codes in the eCommerce industry for businesses that follow a Direct-to-Consumer online only model is that they cannot be implemented for m-commerce purposes; unless the QR Code is on a different mode of print, it cannot be scanned using a single handheld device.
But this does not mean that QR Codes cannot be implemented in the eCommerce sector at all.
QR Codes for eCommerce can provide a platform for e-tailers and customers to advertise, build brand awareness, develop a community of trusted users, and receive customer feedback.
Also Read: How To Launch App Of Your Ecommerce Store
QR Codes: Blurring The Edges Between Offline & Online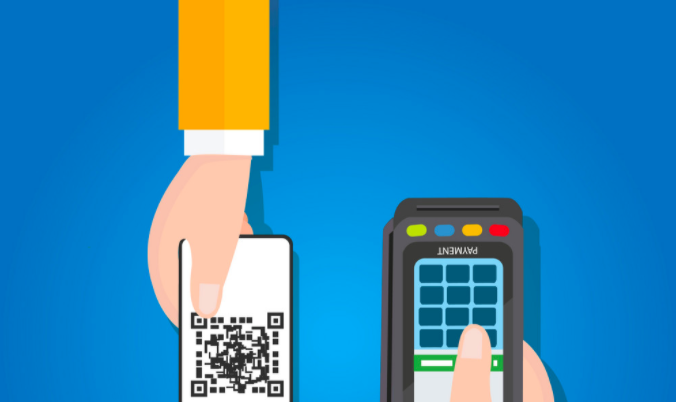 Many eCommerce brands have already leveraged QR Codes in their business models and the results are quite evident.
QR Codes will help a brand grow in multiple folds by blurring the edges between online and offline shopping.
Users can buy any product of their choice from any part of their world.
According to research by Google and BCG, mobile influences over 40% of revenue for leading B2B organizations, and this number is expected to grow to 70% by the end of next year.
This automatically implies that QR Codes for eCommerce will see a massive growth in the next coming years.
QR Codes have solved the most prodigious woe of a shopper – online transaction.
The traditional CNP method is long gone as it is prone to risks.
Deploying QR Codes for online payments has decreased this number drastically.
The QR Code conveys the information of the purchase to the app on the mobile phone, initiating the payment in the process.
One of the biggest advantages of using QR Codes for payments is that the payment information is not carried through the merchant's online network, thereby decreasing the potential risk of exposure or data breach.
Moreover, consumers do not need to have their bank or card details handy at all times.
QR Codes has not only changed the entire face of payment mode for online shoppers, but it has also improved the business for brands.
This technology if explored further for eCommerce can enhance the customer experience by providing massive opportunities for brands to develop new business models, services, and products.
With brands growing organically and inorganically, the complexity of managing businesses and security threats can be managed by incorporating QR Codes into their business models.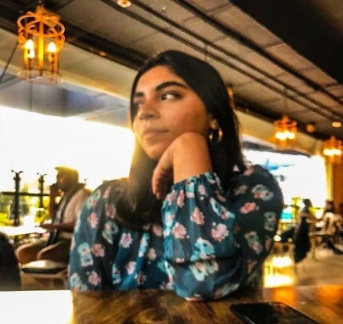 Author: Apoorva Hegde
Content Marketing Strategist at
Beaconstac
. I'm fascinated by all things related to tech and marketing that leverages social media, email marketing, and SEO with a holistic approach.